I had picked up the keyhole plate last year at the What Cheer Flea Market. I had already paid for my items when I found this so I bargained with the nice old gentleman... since then it has been riding around in the cup holder of the car. After doing the other necklace this week I went out and retrieved it.
Matching earrings of course! The earring are a little longer than I normally wear but, cut off all my hair so now I can really show them off!!
I love the rhinestone bead spacers and had fun ageing them ...I mixed Keisha pearls with the silver spacers and finished with champagne colored rondelles.
I am heading off to Junk Jubilee tomorrow... hope to find some new treasures!
I am linking to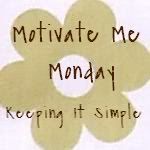 There are all kinds of wonderful ideas here go take a look!