JillRuth I am proud of myself this month I was actually ready and waiting for you!!
Christmas is getting closer and I have been a busy gal! I had played with the
tart shells
to make flowers and came across the very small ones. I started thinking Christmas ornaments and hope you enjoy what I came up with.
I cut cardboard circles, put a layer of batting on top then covered with material and started painting.
I used one of my flowers and liked how it looked too!
My first batch ready for our show....
I am linking to JillRuth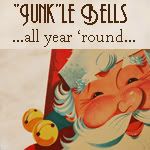 I am linking to Kaysi